All are welcome to join us for a celebration of the Chattahoochee River at the 4th Annual Valley River Rally!
On Saturday, May 4, 2019 we'll host our regional spring event in the City of West Point for the fourth year in a row. Whether on the water for the popular evening paddle or with us for the riverside jamboree afterwards, we look forward to bringing everyone together to celebrate the river and learn more about Chattahoochee Riverkeeper.
The three-mile paddle kicks off at 5 p.m. (EST) from Hardley Creek Park. Once paddlers reach the Downtown River Park in West Point, all from the community are welcome to join for family-friendly festivities lasting from 6 p.m. to 9 p.m. (free to attend). Expect live music, local food, learning opportunities and fun activities for all ages.
NEW THIS YEAR: We are excited to offer a crawfish and low country boil for dinner!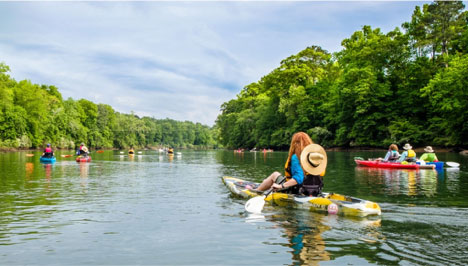 Paddler information
150 Paddle Spots Available … First Come, First Serve
Along with supporting Chattahoochee Riverkeeper and our work in the local community, paddle registration includes: pre-paddle shuttle service, low-country boil dinner, two SweetWater Beers (for adults), and on-the-water support from staff and volunteers. Prices to paddle are:
$35/adult
$25/under 21
For kayak and paddleboard rentals, contact GLL Outdoors (www.gllmarine.com) at 706-645-3584 or info@gllmarine.com. Paddlers must provide their own boat. Inflatable boats are not allowed.
Youth age requirements: If paddling solo, paddler must be at least 15 years old. If paddling tandem, youth must be at least 8 years of age and accompanied by an adult at least 21 years of age. No "passengers" under 5 years of age.
All registrants are required to read and agree to comply with CRK's Liability Waiver.
Paddle registration for the Valley Rally is now closed.
Registration will be available on-site at Hardley Creek Park on Saturday, May 4 between 3:00 p.m. and 4:00 p.m. Please remember that boats are not provided, so bring your own or reserve a rental from GLL Outdoors by calling 706-645-3584.
If river conditions are determined to be unsafe, the paddle will be called off. Look for notification here or on our Facebook, Twitter, and Instagram pages. The low country boil and live music will go on rain or shine!
SPONSORS WANTED!
We welcome support for this event, and in turn, Chattahoochee Riverkeeper's efforts in the community like the West Point Lake Floating Classroom and Neighborhood Water Watch. For more details, contact the event organizer, Henry Jacobs, at hjacobs@chattahoochee.org.
2019 Valley River Rally Sponsors
LaGrange-Troup Chamber of Commerce
West Point Development Authority
Hutchinson Traylor
La Quinta by Wyndham LaGrange