A great big thanks to the 130 paddlers who joined us for the Chattahoochee Valley River Rally this year! And we had a great time on and off the water as the paddle gave way to a festive evening for hundreds more at the Downtown River Park in West Point, Georgia.
Along with the music, food, and art, the event also provided us with a great opportunity to raise awareness of the river, the importance of water stewardship and CRK's outreach programs such as the West Point Lake Floating Classroom and Neighborhood Water Watch.
Thanks again to all who attended as well to the sponsors of the event: Interface, West Point Development Authority, LaGrange-Troup Chamber of Commerce, Charter Bank, Southern Harbor Marina, Renasant Bank, Hutchinson Traylor, Johnny's Pizza, Point University GLL Marine and Sweetwater Brewing Company.
Looking ahead, be sure to plan for the Valley Rally again next year – we'll announce the date this fall!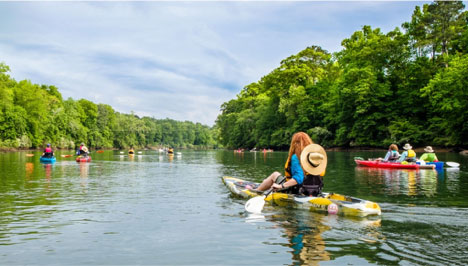 BECOME A SPONSOR!
With continued threats to our river, CRK needs your support more than ever. For event sponsorship and partnership opportunities, please contact Henry Jacobs at hjacobs@chattahoochee.org. View or download our event sponsor packet here.
2018 Chattahoochee Valley River Revival Sponsors

Charter Bank
Hutchinson Traylor Insurance
Renasant Bank
Southern Harbor Marina