April 12, 2018 – 21+ Tons of Trash Removed! And more great events to come.
Sweep the Hooch a Success!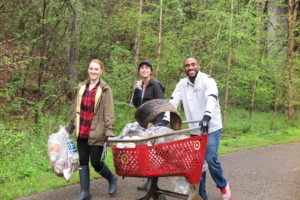 We broke the record with 960 volunteers who pulled 21+* tons of trash from the Chattahoochee River during the 8el Annual Sweep the Hooch! This event took place on Saturday, April 7 at 43 sites covering 100+ river miles. Sweep the Hooch is organized by CRK in partnership with Upper Chattahoochee Chapter of Trout Unlimited and the Chattahoochee River National Recreation Area. Thank you to our sponsors, whom without their support this important day of community service would not be possible.
River Benefactor: The Home Depot Foundation; River Advocate: Arthur M. Blank Family Foundation, Brown Bag Marketing, Collective Insights, Kimberly-Clark, Kroger, Ruby-Collins, Inc., Southwire, WEG Electric Corp. USA; River Conservator: Bridgestone Tires 4ward Program, Center for Hard to Recycle Materials – Charm, David B and Gail Chester, Republic Services; River Patron: American Rivers, Archer Western, Chattahoochee Parks Conservancy, Geosyntec Consultants; Media Sponsor: Atlanta Journal-Constitution, Faimly2Family
*Final numbers will be reported next week.
Join 2 Great Events!
los 4th Annual Wild and Scenic Film Festival will take place on Saturday, May 12 at the Brenau Downtown Center in Gainesville, GA! Save $5 when you purchase an advance (online) ticket AND be entered for a chance to win 2 tickets to a Lake Lanier sunset cruise event on our Chota Princess II. The film lineup includes adventure and environmental films that will inspire you to protect and enjoy the earth's beauty.
los 3rd Annual Valley Rally will be held on Saturday, May 5 in West Point Georgia! Bring your kayaks, canoes and paddle boards for a 3-mile river trip. There's an early bird special; save $5. Join in the fun for a free, family-friendly festival from 6pm – 9pm. Steeped in Country Blues and Americana folk, Jontavious Willis and Jake Xerxes Fussell are the music headliners you won't want to miss.
CRK Earns Highest Rating by Charity Navigator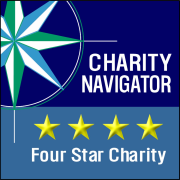 CRK has once again attained Charity Navigator's highest rating of 4-stars, making this our 11th consecutive year! Charity Navigator said, "Attaining a 4-star rating verifies that Chattahoochee Riverkeeper exceeds industry standards and outperforms most charities in your area of work. Only 3% of the charities we evaluate have received at least 8 consecutive 4-star evaluations, indicating that Chattahoochee Riverkeeper outperforms most other charities in America. This exceptional designation from Charity Navigator sets Chattahoochee Riverkeeper apart from its peers and demonstrates to the public its trustworthiness." Thank you to our members, donors, and Board of Directors for making this possible.