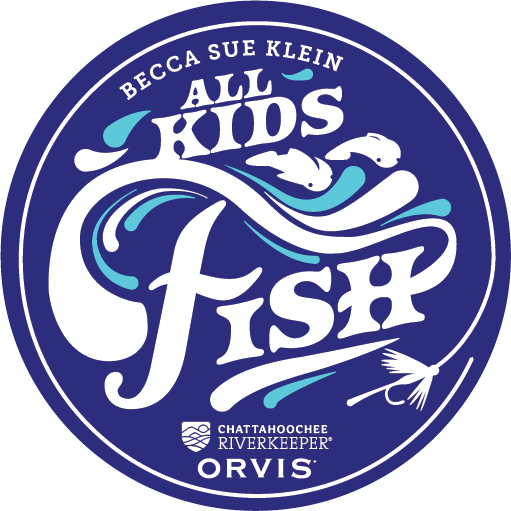 The Becca Sue Klein All Kids Fish is committed to creating events that demonstrate that the sport of fly fishing is open to all, and that the need for conservation requires the efforts of every person on this planet.
We are proud to cultivate a community that promotes equity and inclusivity, so that the kids who participate in our events see themselves reflected in the many volunteers, guides, and staff members present. That means that the All Kids Fish events not only welcome all identities, perspectives, and cultures, but also celebrate diversity so that each angler feels a true sense of belonging – both on and off the water.
– Becca Sue Klein, Founder
Attention to all our incredible alumni:
Commencing in 2024, if your child has previously attended any of the Becca Sue Klein All Kids Fish events, they will no longer be eligible to receive a fly rod. Instead, it will be necessary for you to provide the fly rod they were initially given at the previous event for their participation in the fly fishing activities. Please stay tuned for dates for our 2024 events, with registration going live in January.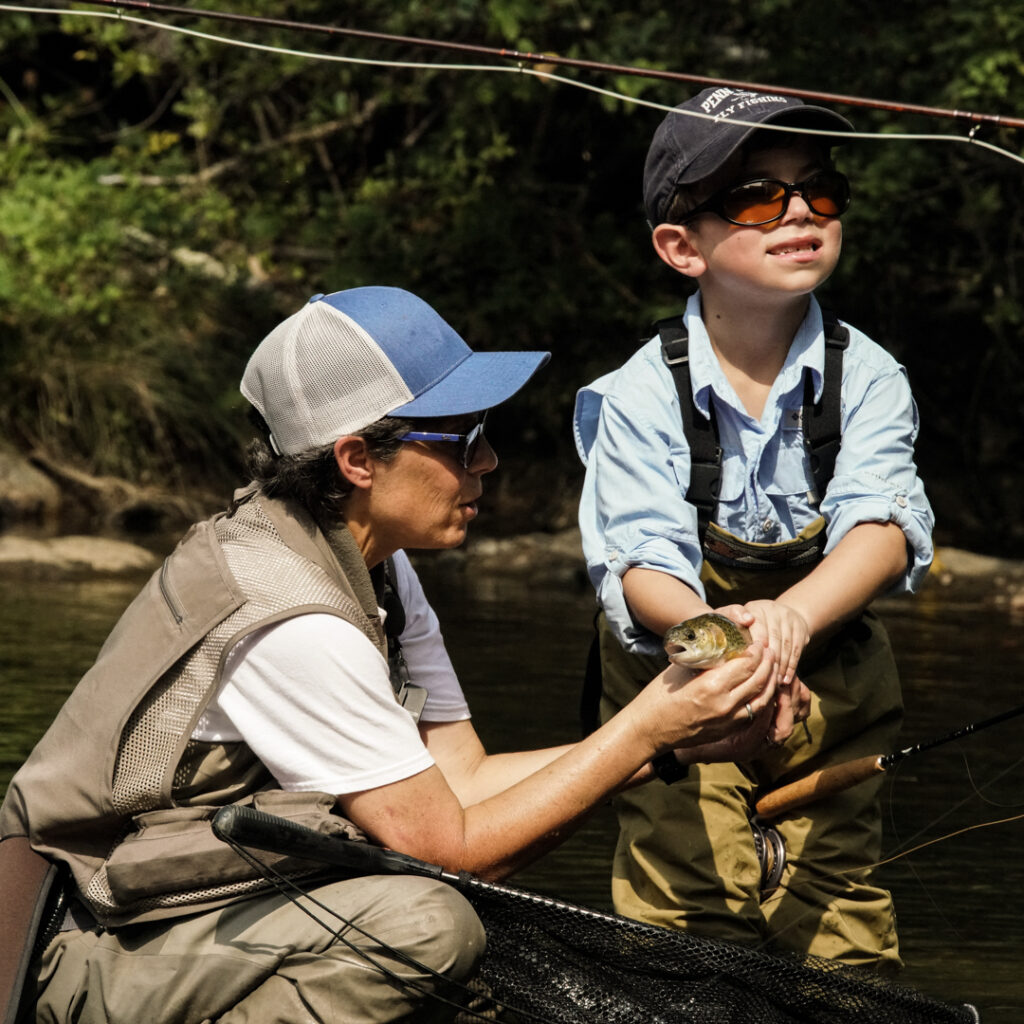 About
Saturday, May 6, 2023
Helen, GA (co-ed)
Saturday, August 5, 2023
Atlanta, GA (co-ed scholarship program)
Saturday, October 21, 2023
Helen, GA (all girls)
The annual Becca Sue Klein All Kids Fish events inspire the next generation of fly anglers and conservationists through three full-day fly fishing retreats. Kids ages 10-18 spend the day in the headwaters region of the Chattahoochee River watershed or in the heart of Atlanta at Piedmont Park learning to assemble and cast a fly rod, how to tie knots and proper gear use, safe fish handling and conservation, and how a healthy river sustains life.
AKF is supported by partner groups and volunteers, including The Orvis Company; hosts Unicoi Outfitters, Smithgall Woods State Park and Piedmont Park Conservancy; international partner United Women on the Fly; and nonprofit partners Foster Cares, YMCA, Lost and Found Youth, and LaAmistad. Together we are able to impact the lives young ladies and marginalized youth throughout our watershed, providing a once in a lifetime experience they are sure to remember for years to come.
Support an All Kids Fish Event
Interested in sponsoring the event with gear or cash? Click below or contact Becca at [email protected]. You can also purchase supplies we need to host this event here.
Stay tuned for more information about sponsoring a youth participant through a scholarship or supporting the event by volunteering.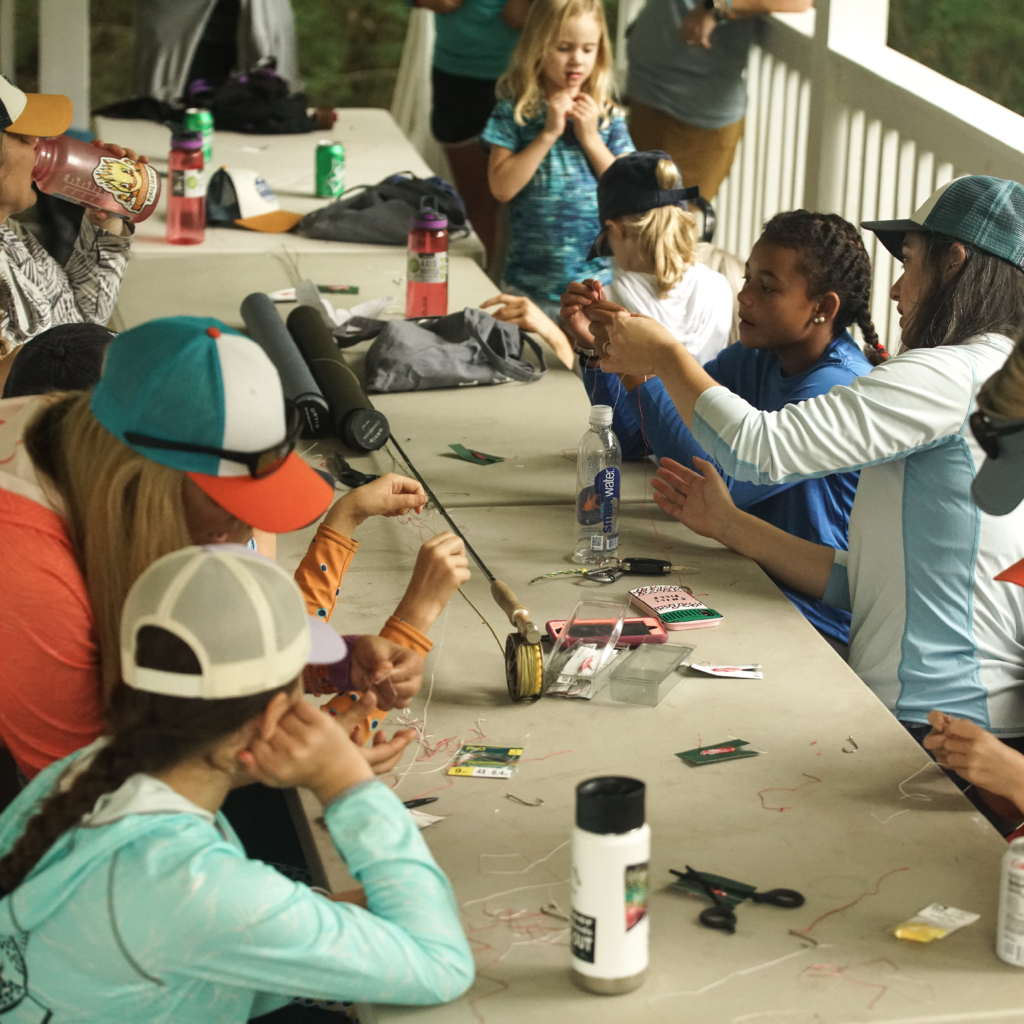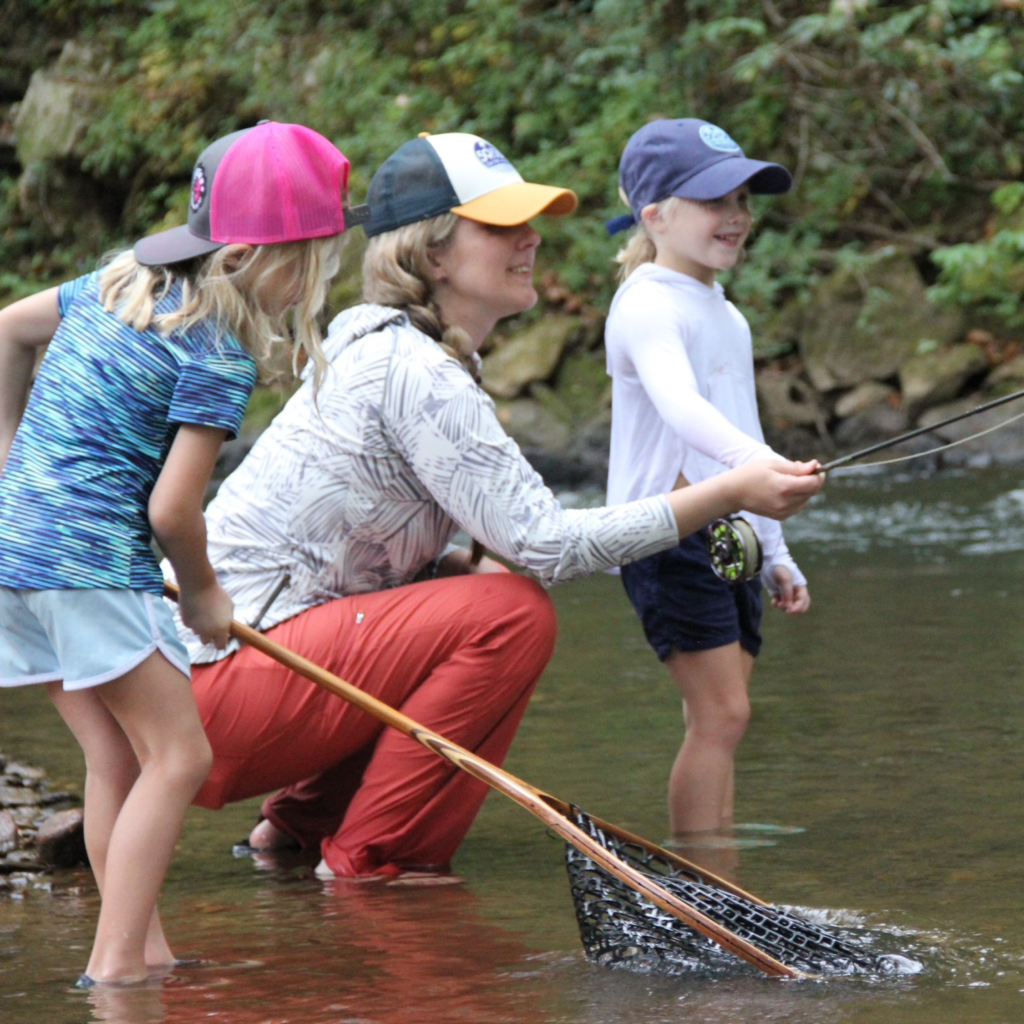 Kids On The Water
In 2019, CRK hosted the first-ever Water Warriors summit in celebration of CRK's 25th anniversary and as part of a broader recommitment to inspire the next generation of environmentalists. That year, CRK development director and fly angler, Becca Sue Klein, came up with an idea – to bring girls from the region out to experience a day of fly fishing and learn more about why protection of our waterways is so important.
"We knew we wanted to develop and enable a new generation of conservation-minded youth who protect the waters that nourish fish and people," said Becca in an article for DUN Magazine. Because of the success of the event, CRK made the decision to add a second event to allow children of all genders to have this on-the-water experience.
In March 2020, Becca was diagnosed with Stage IV metastatic breast cancer and learned that after surviving two cancer diagnosis' in 2015 and 2017, the cancer had moved to her bones and liver. In honor of Becca's long-time service to CRK and as a commitment to her mission of empowering youth in the fly fishing community, the event was named the Becca Sue Klein All Kids Fish, which will be hosted annually.
Thank you to our 2023 Host Committee
Heather Hodson, United Women on the Fly
Jessica Whitmire, Headwaters Outfitters
Israel Patterson, Israel Patterson Photography
Caitlyn Carr Bobo, Cait Carr Photography
Elizabeth Meloy, Fly Angler
Andrew Frank, Galloway School sophomore
Angelica Talan, Digital Creator
Jimmy Harris, Unicoi Outfitters
Kayla Lockhart, Fly Angler
Allie Valdetara, Ladies in Wadies
Aaron Tyre, Fly Angler
Erica Nelson, Consultant
Ellen Begley, Fly Angler
Chelsea Cullen, Ladies in Wadies
Megan Nellen, Confluence Educational Consulting
Thank you to our 2022 Sponsors