Chattahoochee Riverkeeper is the only non-profit organization dedicated solely to protecting the Chattahoochee River.
The Chattahoochee River watershed continues to experience unprecedented population growth. With the continued threats our river faces, your support is now more important than ever. The need for advocacy, education, and protection of our water source heightens everyday.
Please support Chattahoochee Riverkeeper with a one-time or recurring gift. Together we can protect and restore Georgia's Chattahoochee River, its tributaries and watershed, both now and for future generations.
If you would prefer to send your donation in the mail, please download our donor card.
OTHER WAYS TO GIVE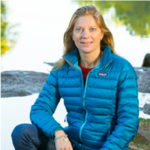 "
Everybody needs clean water, and clean water needs everybody, too.  We are grateful for every person who supports our mission of clean water for all.
– Juliet Cohen
Chattahoochee Riverkeeper Executive Director
For 12 consecutive years, CRK has been a Four-Star Charity Navigator-rated 501(c)3 organization. We will not sell, trade, or share any personal information with any third party, nor send donor mailings on behalf of another organization.