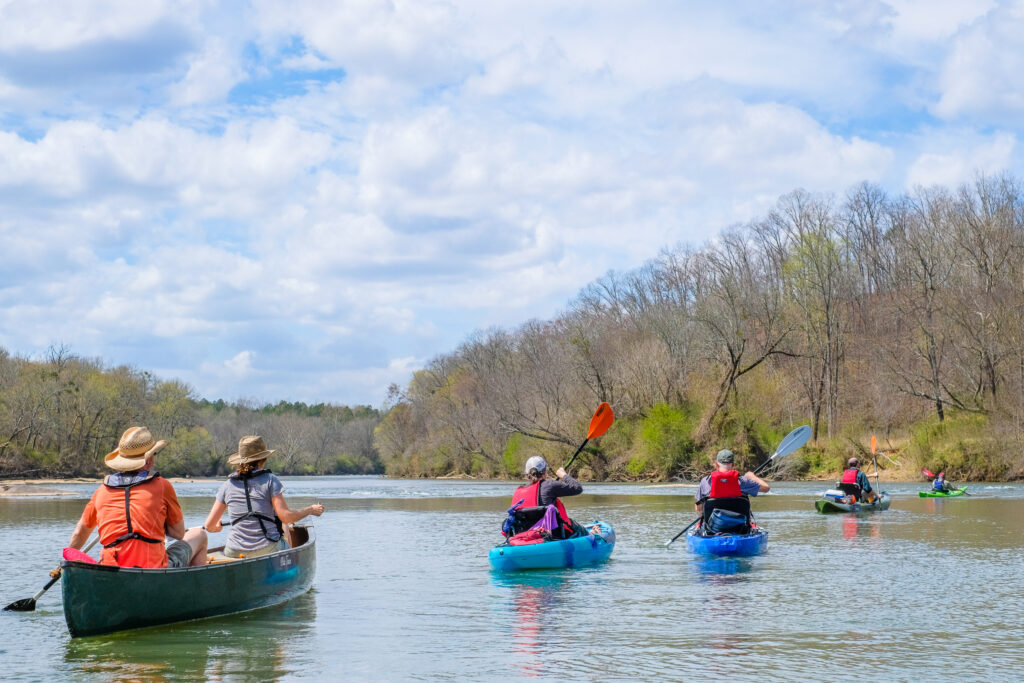 Join with Chattahoochee Riverkeeper (CRK) and Golden's Bikes on Saturday, November 3 for a feel-good morning of bicycling and paddling – a great combination for fun seekers and athletes alike! Proceeds from this fundraising event will support scholarships for underserved students to experience the West Point Lake Floating Classroom – an environmental education program operated by CRK.
With guidance and support from Golden's Bikes, we'll start the morning out with a ride along scenic paved & gravel backroads of Heard County on a 14-mile route that eventually lands us at the Riverside Park in Downtown, Franklin. From there, you can switch to your kayak/canoe/paddle board and take to the Chattahoochee River as it gently flows for five miles into the headwaters of West Point Lake and our destination, Snake Creek Park. Vehicles will be parked at Snake Creek Park as it is the starting point for the bike ride, and once the paddle starts, a secure trailer will return bikes to the park.
All are welcome to join! However, participants should be in good physical condition and any pre-existing medical conditions must be communicated beforehand. Paddlers of all skill levels are encouraged to sign up as there are no significant shoals or rapids. CRK staff and volunteers will lead the paddle trip and provide highlights of the local history and ecology of the river.
*Bicyclist, bring your bike! Helmets are required for the ride too.
**Because 40% of the bike ride is on a gravel surface, road bikes are not highly recommended (but will probably be OK with 32mm width tires). Gravel bikes, hybrid bikes, cyclocross bikes, or mountain bikes are the best options. Here is a link to the route on the app Strava, https://www.strava.com/routes/14792783.
***Paddlers must bring their own boats, paddles and PFD's! However, CRK can provide kayaks and gear on a first-come first-serve basis and at no additional cost (8 total available). Contact Henry Jacobs at hjacobs@chattahoochee.org to make reservations.
****You must be 15 years or older to participate.
Event Timeline:
8:00 AM – 8:45 AM … Sign in at Snake Creek Park
8:00 AM – 8:30 AM … Kayaks are dropped off at Franklin boat ramp (before signing in at Snake Creek Park); CRK staff will be present to watch kayaks
9:00 … Bicycles depart from Snake Creek Park on 14.27 mile route to Franklin boat ramp
10:00 … Bicycles start arriving at Franklin boat ramp
10:30 … All paddlers depart together from Franklin
10:45 … CRK staff shuttles bikes back to Snake Creek Park via truck/trailer
11:30 – 12:00 PM … Paddlers arrive at Snake Creek Park
12:00 – 1:00 PM … Wrap up & lunch served to participants
Addresses:
Heard County Riverside Park … 101 Glover Road; Franklin, GA 30217
Snake Creek Park … 4578 South River Road; Franklin, GA 30217
*Approximated as neither parks have actual addresses