First, look for signs that construction activity is happening. Zoning signs, staging of construction vehicles, silt fences and initial site clearing activities are good signs that construction activities are beginning.  But that doesn't mean there is a problem. Problems around the site such as muddy water flowing down streets and in gutters, muddy colored streams or waterways that don't normally look muddy, and tracking of mud in roads would indicate a problem.
1. Failure to Design, Install, or Maintain best management practices (BMPs)
To keep sediment from leaving a construction site, developers need to implement a system of BMPs. There are 3 keys to BMPs: proper design, installation, and maintenance. Below is a list of common BMPs and photo examples of proper and improper design, installation and maintenance.
2. Failure to Identify State Waters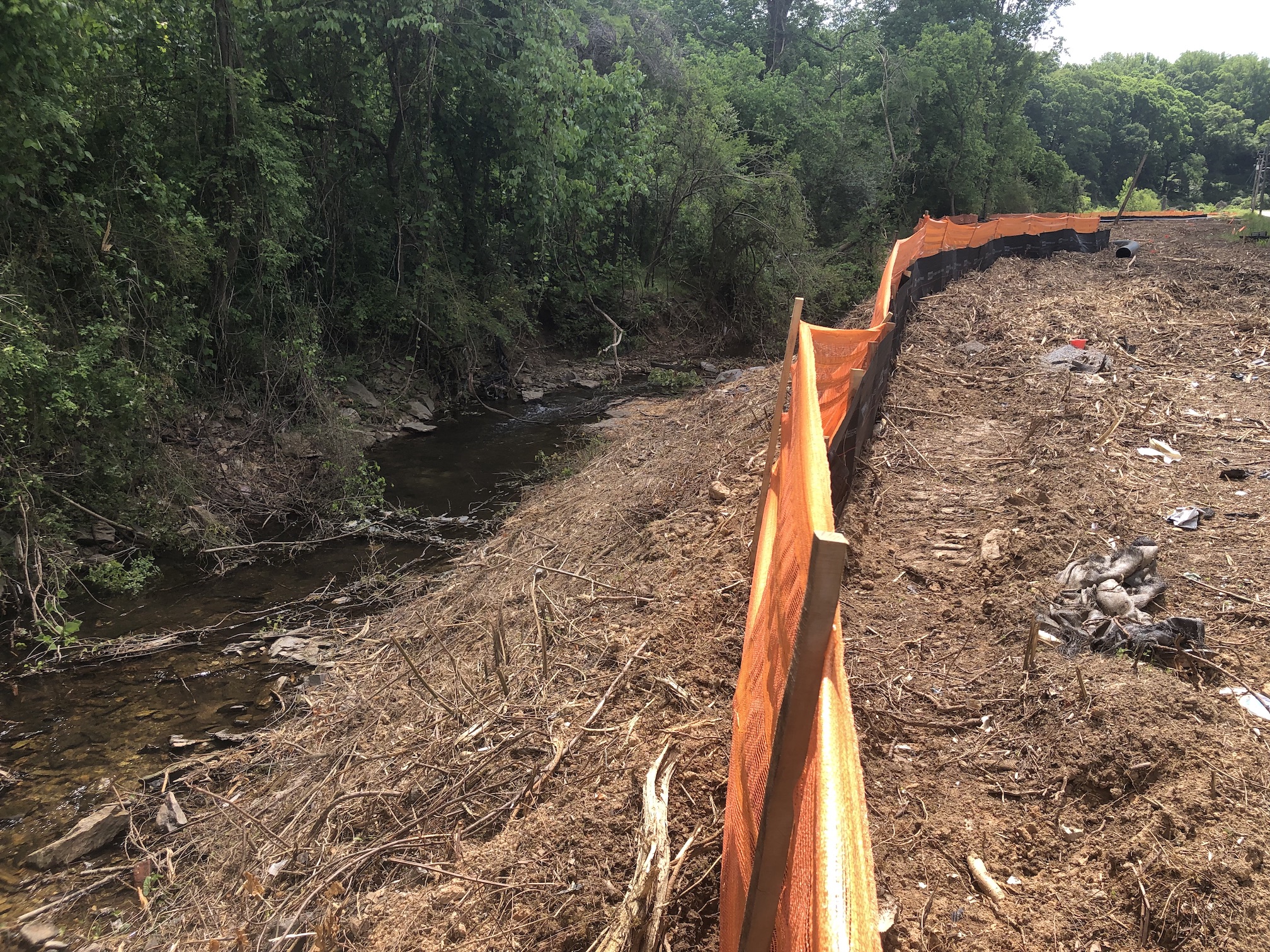 Georgia defines state waters as 'all surface or subsurface water bodies, natural or artificial, lying within or forming a part of the state boundaries, which are not entirely confined upon a single private property.'
It's important to note that water bodies do not necessarily have to be mapped or contain observable aquatic life to meet the State Waters definition.
If a construction site has a defined state waterway on their site, they need to implement additional BMPs to protect the stream and adhere to state and local stream buffer disturbance laws.
3. Stream Buffer Violations
A stream buffer is an area along a waterway where development is restricted and the removal of vegetation is prohibited.
Buffers are important because they:
Physically protect and separate a stream, lake or other waterway from future disturbance or encroachment.
Reduce flooding and erosion, acting as a right-of-way during floods.
Provide shade and nesting for birds while moderating water temperatures for aquatic life.
Georgia State Law requires a minimum of 25-foot undisturbed buffer along the banks of all state waters. (A 50-foot buffer if classed as a "Trout Stream").
Note that local governments may require additional buffers. Local buffer laws can be found in municipal ordinances. There are exceptions to the state buffer law, including encroachment by roads, bridges, sewer/water lines and drainage structures. Developers may apply for special variance to disturb the buffer, which must be granted by the director of EPD.
Common Buffer Violations
Disturbing a buffer without obtaining a variance, granted by the director of EPD.
Improper delineation of the buffer, resulting in buffer encroachment.