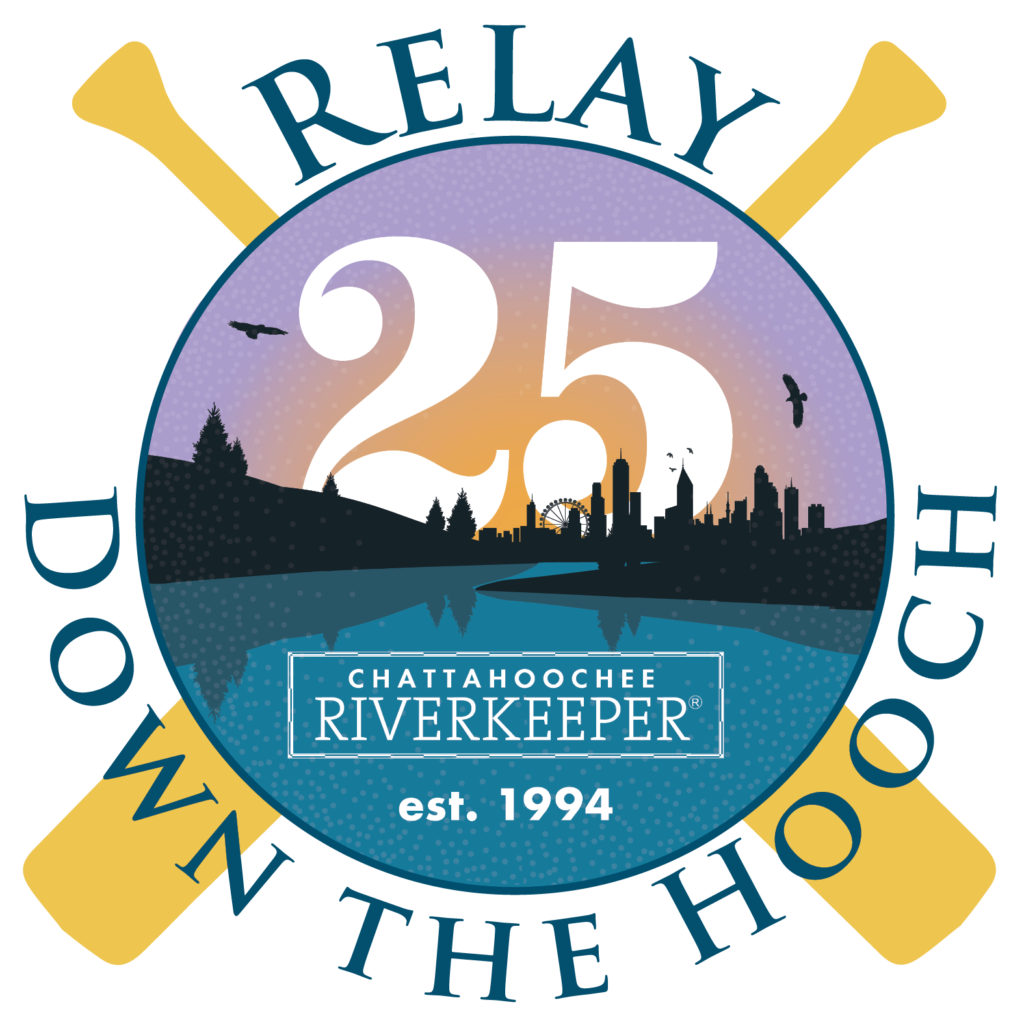 In 2019, Chattahoochee Riverkeeper celebrated 25 years of keeping watch over the Chattahoochee. To honor our anniversary and the river that provides so much, CRK embarked on an ambitious journey downstream – a Relay Down the Hooch honoring all 435 miles of the Chattahoochee River.
From its source in the north Georgia mountains to its confluence with the Flint River at the Florida border, the Chattahoochee is a river that connects us.
The river touches three states, countless communities, and over five million people who get their drinking water from the river each day. Over a nine-month-long expedition in 2019, we gathered with partners and collaborators to tell the story of the river and all the things that make it special
An Epic Adventure
The complete Relay Down the Hooch route spanned 435 river miles and was comprised of more than 35 individual trips.
It all started with a hike to the headwaters of the Chattahoochee River, a small spring in the North Georgia mountains. CRK staff, volunteers, friends, and partners took it from there with exciting trips like tubing in Helen and boating at the Lake Lanier Olympic Venue. In Metro Atlanta we were joined by outfitters and nonprofit partners alike to paddle the Chattahoochee River National Recreation Area. South of the city, our floating classroom took on West Point Lake and thrill-seekers ventured the Columbus Whitewater Course. Then the Riverkeeper himself navigated CRK's trusty patrol boat all the way down to Lake Seminole and the Florida border.
Check out the map with more details on our journey below!
Special Thanks To Our Partners
Atlanta Rowing Club / Jr. Rowing Club
Bill Brooksher
Blue Heron Adventures
Chattahoochee Hills
Chattahoochee Nature Center
Chattahoochee River Conservancy
Chattahoochee River National Recreation Area
Cool River Tubing
Don Carter State Park
Elachee Nature Science Center
Foundry High School
Gainesville Marina
Gary Gaines
Georgia River Network
GLL Outdoors
Hall County Parks and Leisure
High Country Outfitters
Lake Lanier Association
Lake Lanier Convention and Visitors Bureau
Lake Lanier Olympic Venue
Lanier Canoe and Kayak Club
Lanier Rowing Club
Lanier Sailing Club
Nantahala Outdoor Center
Newnan Paddlers
River Through Atlanta
Shoot the Hooch
Unicoi Outfitters
United State Army Corps of Engineers
West Point Lake Coalition
Whitewater Express
Wildwood Outfitters