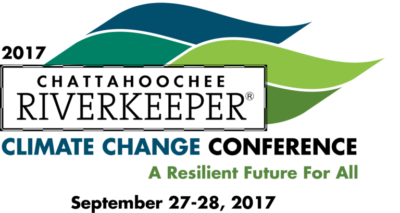 In 2017, Chattahoochee River hosted its first-ever conference focused exclusively on climate change effects in the watershed, exploring solutions for a resilient future for all who depend on the Chattahoochee River.
Leading scientists and experts shared knowledge of changing climate conditions, impacts to human and ecological interests, risk assessment and resiliency planning tools and innovative measures for mitigation and adaptation.
Conference Objectives
1.To present reliable scientific data and analysis of current and future climate conditions and trends in the Chattahoochee River Basin.
2.To understand the impacts of climate conditions to human, infrastructure and ecological interests.
3.To offer solutions to mitigate climate change, and for adaptation and resiliency to meet challenges.
4.To promote dissemination of knowledge, gathering, dialogue and planning among those involved in research, planning and implementation at local, regional and state levels.
5.To improve education and communication of climate change risks throughout the Chattahoochee River Basin.
Conference Themes:
What does the science indicate and how will our environment and community be affected?
Learn from leading scientists conducting research in climatology, urban environmental change and heat effects, and hydrology about the changing climate conditions and how they may affect river flows, the urban landscape, and people and wildlife. State and federal agency representatives will discuss the applied tools to investigate impacts and the policies to mitigate and adapt to possible changing conditions.
What is the moral imperative to act and can climate mitigation and adaptation offer co-benefits to public health?
Public health, religious, environmental stewards, and education leaders will explore the reasons to assess climate risks as they relate to vulnerable populations and the moral imperative we face to mitigate and adapt to climate impacts so that we may create a resilient future for all. These leaders will propose reasons for and examples of how climate adaptation and mitigation solutions offer co-benefits to public health and other aspects of community life.
What tools are available for creating a resiliency strategy and who is leading the way?
Local governments, corporations and educational institutions are conducting climate vulnerability assessments and creating resiliency strategies to protect their infrastructure, capital resources, as well as, be responsive to customer demands and seize on market opportunities. Water and energy experts from the public and private sectors will share lessons learned and success stories in reducing water and energy demand, managing stormwater through green infrastructure, and other climate mitigation and adaptation advances to protect our watershed.
How do we communicate with diverse audiences?
Climate Change in the American Mind: Communicating about this complex issue with diverse audiences. The Yale Program on Climate Change Communication specializes in understanding public climate change knowledge, attitudes, policy preferences, and behavior and the underlying psychological, cultural and political factors that drive public responses.
A special thank you to our Climate Change Conference Steering Committee:
Mary Anne Lanier, Chair of Conference, Trustee Ray C. Anderson Foundation & member CRK Board of Directors
Dave Kirkpatrick, Vice-Chair, CRK Board of Directors
Sally Bethea, founding Executive Director & Riverkeeper, CRK
Julie Hairston
Andy Thompson, Smith Gambrell Russell LLP

Rob McDowell, Georgia State University
Rev. Kate McGregor Mosley, Georgia Interfaith Power & Light
Chris Nelson, Chattahoochee Nature Center
Stacy Funderburke, Conservation Fund
Cory Rayburn, City of Atlanta
Jenny Hoffner, American Rivers
Conference Program and Agenda
DAY ONE: Wednesday, September 27, 2017
8:00am
Breakfast
9:00am
Plenary Panel: Water & Energy Efficiency as a Path to Resilience
Moderator:
Chris Manganiello, Water Policy Director, Chattahoochee Riverkeeper
Panelists:
Mary Ann Dickinson, President and CEO, Alliance for Water Efficiency
Linda MacGregor , Water Resources Director, City of Gainesville
Kathy Nyguen, Sr. Project Manager,
Cobb Co. Water System
Marilyn Brown, Professor, Georgia Tech
10:15am
Breakout Sessions 3 & 4
Session 3: Innovation and Resilient Infrastructure for Managing Risk
Moderator:
Andrea Pinabell, President, Southface
Panelists:
Ciannat Howett, Director of Sustainability, Emory University/Emory Healthcare
Denise Funk, Division Director of Research & Development, Gwinnett Co. Dept. of Water Resources
Allie Kelly, Executive Director, The Ray
Harriet Langford, President, The Ray
Jenny Hoffner, Vice President for Conservation Strategies, American Rivers
Session 4: Stormwater Solutions and Green Infrastructure
Moderator:
Erik Fyfe, Watershed Protection Specialist, Chattahoochee Riverkeeper
Panelists:
Jason Gregory, RLA, LEED AP, Sr. Educational Facilities Planner, GA Tech
Cory Rayburn, Watershed Manager, City of Atlanta's Environmental Management Division
Alice Champagne, Deputy Director Environmental/Public Works Dept, City of Roswell
Emmy Montanye, Principal with Kimley-Horn
11:30am
Student Poster Sessions & Networking Lunch
12:30pm
Plenary Panel: How is the Corporate Sector Managing Environmental Risk in a Changing Climate
Moderator:
Judy Adler, President, Turner Foundation
Panelists:
Bruce Karas, VP, Environment, Sustainability, Safety and Technical Information at Coca-Cola North America
Patrick Browne, Director of Global Sustainability, UPS
Stephanie Valdez Streaty, Senior Director, Corporate Responsibility Inventory Solutions, Cox Automotive
Steve Farace, Minister of Propaganda, SweetWater Brewing Company
Paul Sims, Sr. Dir., Remediation & Public Affairs, Southwire Company
2:00pm
Keynote Speaker
Paul Hawken, Project Drawdown
3:30pm
Plenary Panel: Tools for Creating a Resiliency Strategy
Moderator:
John Lanier, Executive Director, Ray C. Anderson Foundation
Panelists:
Danny Johnson, Manager, Metropolitan North Georgia Water Planning District
Stephanie Stuckey, Chief Resilient Officer, City of Atlanta
Daniel Rochberg, Chief Strategy Officer, Climate@Emory
Ned Gardiner, Engagement Manager, U.S. Climate Resilience Toolkit, NOAA Contractor
Savannah Miller, Regional Campaigns Manager, EXPOSURE LABS
4:45pm
Closing Remarks
Chattahoochee Riverkeeper, Ray C. Anderson Foundation, Cox Conserves
DAY TWO: Thursday, September 28, 2017
8:00am
Registration and Breakfast
9:00am
Welcome Message
Chattahoochee Riverkeeper, Ray C. Anderson Foundation, Cox Conserves
9:30am
Keynote Speaker
Dr. Marshall Shepherd, Georgia Athletic Association Distinguished Professor and Director, UGA Atmospheric Sciences Program
10:00am
Plenary Panel: Changing Climate Conditions in the Chattahoochee River
Moderator:
Dr. Marshall Shepherd
Panelists:
Brian Bledsoe, Professor of Civil and Environmental Engineering, UGA
Brian Stone, Professor in the School of City and Regional Planning,
Georgia Institute of Technology
Todd Hamill, Service Coordination Hydrologist, NWS – Southeast River Forecast Center
11:30am
Student Poster Sessions & Networking Lunch
12:30pm
Plenary Panel: Climate Equity and our Moral Imperative to Act
Moderator:
Felicia Davis, Sustainability Coordinator, Clark Atlanta University
Panelists:
Rev. Kate McGregor Mosley, Georgia Interfaith Power & Light
Archbishop Wilton Gregory, Roman Catholic Archbishop, The Roman Catholic Archdiocese of Atlanta
Dr. Christian Braneon, Chief Engineer, Hummingbird Firm
Rev. William Flippin, Pastor, Social Activist, Feminist and Ecumenist, Emmanuel Lutheran Church
1:45pm
Breakout Sessions 1 & 2
Session 1: Climate Change Effects on River Flows, Fish and Wildlife
Moderator:
Jason Ulseth, Chattahoochee Riverkeeper
Panelists:
Adam Betuel, Director of Conservation, Atlanta Audubon Society
Chris Scalley, Fly Fishing Guide, River Through Atlanta Guide Service
Mark Mandica, Executive Director, The Amphibian Foundation
Mandy Joye, Distinguished Professor, UGA
Session 2: Climate Change and Public Health: Solutions Offer Co-Benefits
Moderator:
Dr. George Luber, Chief, Climate and Health Program, CDC
Panelists:
Dr. George Luber, Chief, Climate and Health Program, CDC
Alice Rolls, Executive Director, Georgia Organics
Tim Keane, Commissioner, City of Atlanta – Dept. of City Planning
Greg Levine, Co-Executive Director & Chief Program Officer, Trees Atlanta

3:30pm
Plenary Session: Lisa Fernandez, Yale Program on Climate Change Communications
6:00pm
Chattahoochee Riverkeeper 23rd Annual Patron Dinner at Georgia Aquarium
Related Posts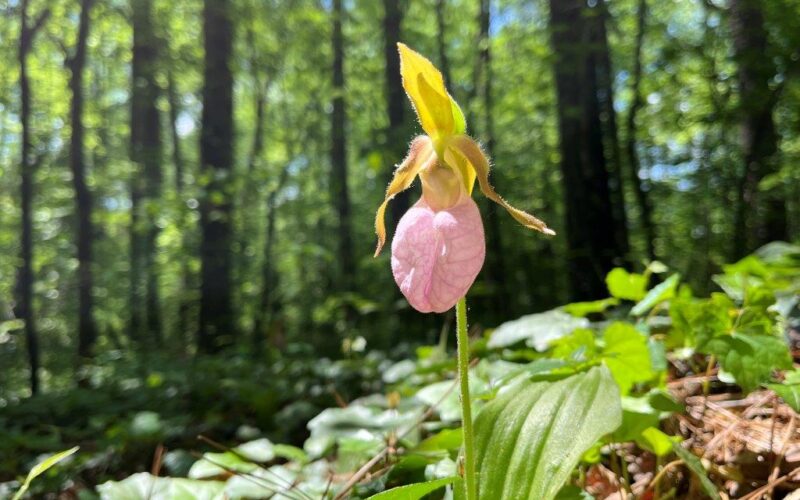 Flora Feature: Pink Lady Slipper Orchids
Venture into the forested areas of Atlanta between April and May and you may stumble upon a picky, herbaceous plant known as the Pink Lady Slipper orchid. Pink Lady Slipper…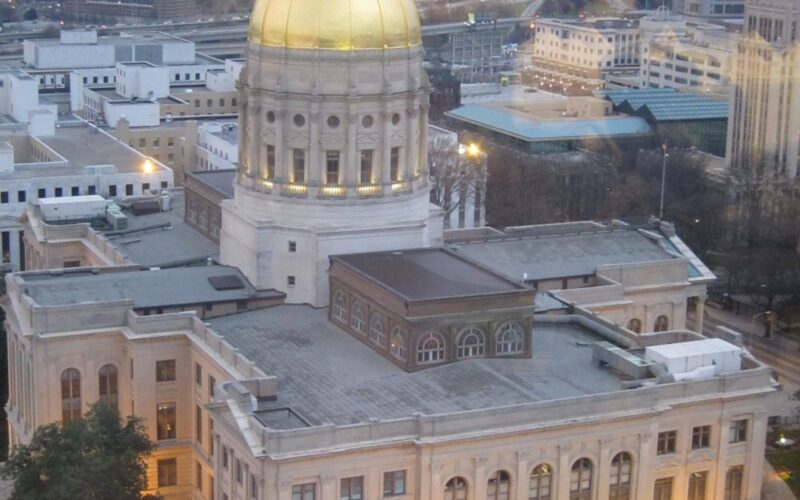 State legislators show little concern for Georgia's environment
We're not going to sugarcoat it – this was not a successful year for legislation to protect Georgia's natural resources. CRK is a founding member and active leader of the…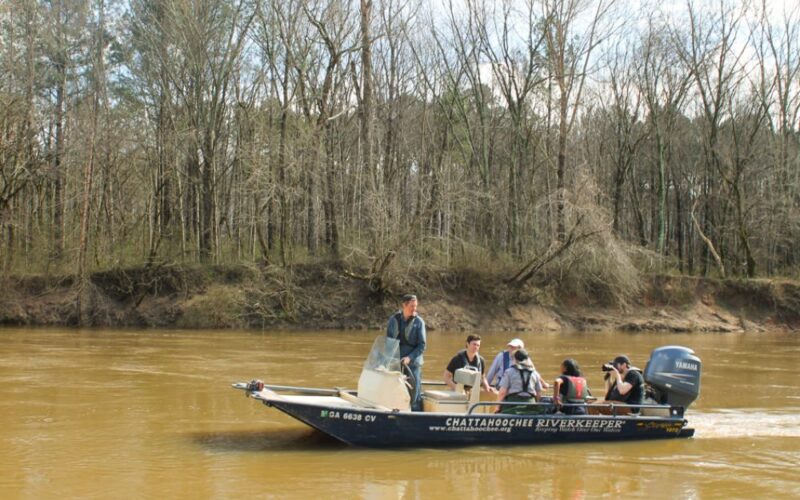 Chattahoochee Riverkeeper leads river tour with Senator Jon Ossoff, local leaders to highlight Chattahoochee River Act
On Wednesday, February 23, Chattahoochee Riverkeeper led U.S. Senator Jon Ossoff and other local leaders on a boat tour of the Chattahoochee River to support ongoing dialogue about the recently-announced…