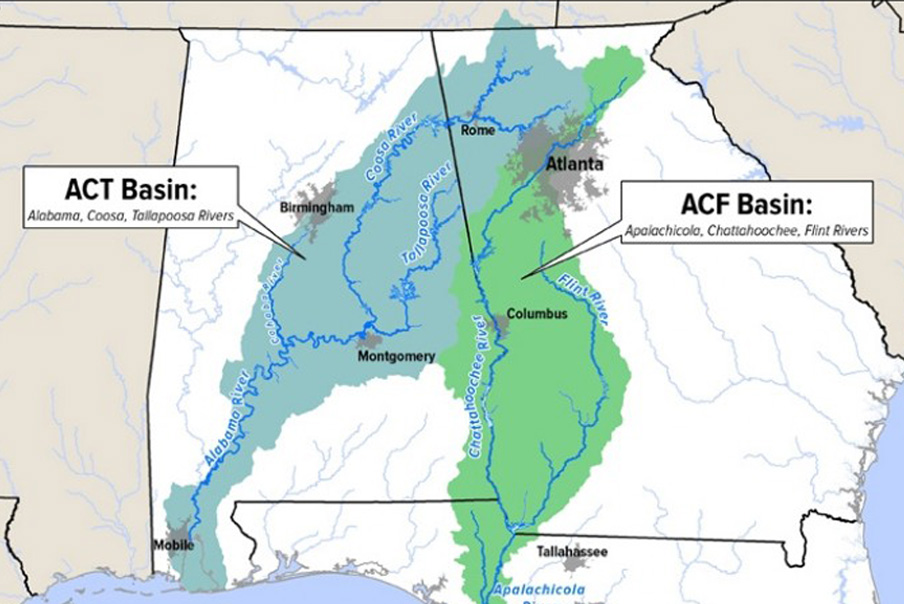 On June 27, 2018, the U.S. Supreme Court issued an opinion in Florida v. Georgia, sending the case back to a Special Master for additional work. You can read the opinion here.  As of July 2019, the case remains under review by Special Master Paul J. Kelly, additional hearings are expected, and the docket can be accessed here.
Water in the Chattahoochee River for 5 million people—homeowners and communities of all sizes from Helen, Georgia to Gordon, Alabama.
About 800,000 acres of irrigated agriculture in Georgia's portion of the Chattahoochee and Flint River basins, and a big slice of Georgia's $14 billion farm gate value of all food and fiber commodities grown in-state.
Historic tupelo honey industry and oyster fishery in Florida's Apalachicola River floodplain and the Apalachicola Bay.
Millions in recreation dollars generated on Lake Lanier, at Columbus' whitewater course, and in the sport fishing industry.
Water necessary for energy generation and industrial production.
This isn't really about which state wins or loses. This is about community health and economic sustainability for all impacted communities spanning three states.
For nearly thirty years, Georgia, Alabama, and Florida have fought over the use of water in the Apalachicola-Chattahoochee-Flint River Basin (ACF), which is heavily influenced by the U.S. Army Corps of Engineers' operation of Lake Lanier's Buford Dam. Lake Lanier lies within the Chattahoochee's headwaters, just north of Atlanta.
The Corps built Lake Lanier in the 1950s with clear Congressional authorization for flood control, navigation, and hydropower. Over time, however, Lake Lanier has become the primary source of drinking water supply for metro Atlanta, and Alabama and Florida have argued that Georgia withdraws too much and isn't sharing the water fairly. All three states have turned to the courts to try to resolve the conflict. Key litigation milestones include:
In 2009, a federal district court judge ruled against Georgia, deciding that water supply was not an authorized purpose of Lake Lanier. The judge gave Georgia three years to reach a water–sharing agreement with Alabama and Florida and get Congressional approval.
In 2011, the Eleventh Circuit Court of Appeals reversed the 2009 federal district court decision, ruling that water supply is an authorized purpose of Lake Lanier, on par with hydropower, navigation, and flood control. Furthermore, the appeals court gave the Corps one year to determine the extent to which it could operate Lake Lanier to meet water supply needs in addition to the other authorized purposes.
In 2012, the Corps respondedto the 2011 Eleventh Circuit decision, determining it has discretion to operate Lake Lanier in order to meet Georgia's current and future water demands.
In 2013, Florida took the dispute to the U.S. Supreme Court, alleging that Georgia was using too much water, that Florida suffered economic and ecological harm as a result, and requesting equitable apportionment of the waters in ACF Basin. The Supreme Court agreed to hear the case [Supreme Court docket here], and appointed a special attorney known as a Special Master to oversee and manage the case, which is ongoing.
During the Supreme Court litigation, the Corps released an updated ACF Water Control Manual to guide operations of the Corps' five reservoirs, dams, and navigation locks in the basin to meet Congressionally authorized purposes of power generation, flood control, navigation, water supply, recreation, and fish and wildlife.  This manual had not been updated since 1958.
The Special Master, Part I
After extensive discovery resulting in production of millions of pages of documents, a six-week trial began on Halloween and concluded on December 1, 2016.  All documents pertaining to the Special Master's proceedings can be found here.
On February 14, 2017, the Special Master—Portland, Maine attorney Ralph Lancaster—who oversaw the trial concluded that Florida had not proven by clear and convincing evidence that a cap on Georgia's consumptive water use would result in additional streamflow in Florida. The Special Master's recommendation was to deny Florida's request for relief.
Florida clearly failed to win over the Special Master.  But so did Georgia.  Lancaster was persuaded by Florida's allegations that Georgia's agricultural water management policies were ineffective and led to waste.  In the Special Master's words, Georgia's agricultural water use has been "largely unrestrained."  Days before the October trial commenced, Georgia Governor Nathan Deal created an Agricultural Permitting Compliance Task Force to evaluate the state's water withdrawal regulatory process.  And in an unprecedented set of actions, the Georgia Environmental Protection Division (EPD) began issuing dozens of "notices of violations" to agricultural water withdrawal permit holders.
Lancaster also noted that metro Atlanta only embraced water conservation because of constant legal threats.  According to the Special Master, "Georgia appears to have taken significant steps to conserve water in the Atlanta metropolitan region—though only after having been spurred to take such steps by adverse litigation results," citing the former Georgia Environmental Protection Division Director Jud Turner.
Florida Responds to the Special Master
On May 31, 2017, the state of Florida filed "Exceptions to Report of the Special Master," and argued that the Court may find in its favor regardless of whether or not the U.S. Army Corps of Engineers is a party to the case. In his recommendation, the Special Master ruled against Florida in large part because he found that the Corps' operations in the ACF Basin would likely prevent additional flows into the Sunshine State even if an equitable apportionment was made and Georgia was forced to further restrict water usage.
Water and Agriculture in Georgia
Florida's "Exceptions" brief again identified Georgia's agricultural water use in the lower Flint and Chattahoochee rivers as poorly regulated and as example of the harm from which Florida seeks a remedy. In pre-trial briefs, Florida accused Georgia's farmers, producers, and growers of illegally irrigating up to 90,000 acres of farmland. In response and as noted above, EPD began issuing notices of violation to ag operators in the lower Flint River basin alleged to be withdrawing water without a permit or irrigating more acreage than specified in their permits.
While the Agricultural Permitting Compliance Task Force results and recommendations were never publicly released, in June 2017, the Governor's office announced plans to increase funding for EPD's agricultural water withdrawal metering program.  The program has existed since 2003 and installed thousands of meters all over the state.  Now the state will inject $20 million into the program to install thousands of additional water withdrawal meters and specifically target un-metered withdrawal points in the Flint and Suwannee River basins, which both ultimately flow into Florida.
You can read more about this topic in a Georgia Water Coalition report: Watering Georgia: The State of Water and Agriculture in Georgia.  The 2017 report highlights the history, economics, water demand trends and forecasts, and regulatory nature of irrigated agriculture in Georgia.  The report offers recommendations for how the Georgia can avoid future conflict and ensure there is enough water for all water users and the environment. You can find the full report online.
The Special Master, Part II
The Supreme Court heard oral arguments in the case on January 8, 2018. On June 27, 2018, the Court issued an opinion in the Florida v Georgia trial. The opinion says [read it here]:
The court needs more information before it can render a final opinion. That means the case is going back to the Special Master for more work.
Florida has another chance to demonstrate how much water it needs and what benefit that extra water will provide.
The court has set a very clear expectation that the U.S. Army Corps of Engineers will actively participate in determining what an equitable apportionment will look like. The Corps can no longer be a bystander in this case.
On August 9, 2018, the Court named a new Special Master—Senior Judge Paul J. Kelly, Jr., from the U.S. Court of Appeals for the Tenth Circuit—who initiated another round of information gathering to proceed with the case.
By the end of February 2019, Florida and Georgia submitted briefs (and response briefs) addressing the U.S. Supreme Court's specific requests to articulate what specific volume(s) of water would benefit Florida and what consequences Georgia could face.  Additionally, Judge Kelly wanted to understand why Georgia's use of water may or may not qualify as reasonable.
While Florida did not address the specific questions as requested, CRK was pleased to see Florida point to a report generated by the ACF Stakeholders, Inc. for a way out of the decades-long water-wars.  In the January 2019 filing, Florida referenced the Sustainable Water Management Plan as a source for solutions "to supplement drought flows into Florida" without harming Georgia or Alabama.
At the end of March, the state of Florida submitted a motion for oral argument.  The Special Master has not responded to the briefs or the motion as of July 2019.
Chattahoochee Riverkeeper believes the three states must negotiate an interstate compact to equitably divide the waters. Georgia and Florida should not spend additional time and millions of additional dollars to continue this litigation. The states have spent hundreds of millions of taxpayers' dollars on litigation since the 1990s, with no resolution in sight.
The three states have the opportunity to turn to an existing technical solution produced by the ACF Stakeholders—a collaborative group of agricultural, municipal, industrial, environmental, individual, and other interests who live, work, and use the water resources of the ACF river basin.  Their Sustainable Water Management Plan(2015) offers recommendations to improve data collection and drought management; to alter operations of the Corps' five dams and reservoirs; and to reduce water withdrawals while maximizing returns. The plan represents a technical solution formed from the ground-up where a top-down solution has been lacking.
We must cease endless rounds of litigation, and instead focus our resources on sharing our water because climate change is real, communities will continue to grow, and our clean water sources are limited.
The U.S. Supreme Court's opinion recognized that there will always be a downstream community, farmer, or industry that will need clean water for economic sustainability. The legal battles are not really about which state wins or loses. The debate is about community health and economic sustainability in communities spanning three states.
Regardless of the trial's outcome, Georgians have a responsibility to conserve water.  CRK's Filling the Water Gap highlights many examples of success and opportunities to improve water efficiency and conservation in the basin.
If a robust culture of conservation does not take hold in Atlanta, the Flint River basin, and across all economic sectors, we'll be back in court again another day.
Updated July 24, 2019. For more information about the tri-state water conflict and CRK's efforts to resolve the dispute, email Water Policy Director Chris Manganiello or call (404) 352-4509.